The feet sizes and the shape of a woman are generally different from men. It is natural and scientifically proven. So, the best work boots for women are made and designed on their shape and size are different from men that we bring for you.
Causal shoe selection is easy and fast according to occasion and taste. But work boot selection is a bit difficult because there are many factors that we should keep in mind before buying. Protection, comfort, and durability are the main factors for the choice of work boots in every field of life. We present you with the best work boots list that is based on affordability, safety, high quality, comfortability, and durability.
Best work boots for men selection are bit easy and fast rather than the woman. There are many different issues that a woman is facing daily at work. The reasons are the material used, weight, design, and quality. Most women are finding a comfortable, durable, lightweight, safe, and easy to wear.
Our review can make your choice a bit easy. We took the selected footwear pairs and test them in a different field environment and then bring them to you for your guidance or help.
In comfort features, we keep the following points in mind. Such as lightweight, easy and well-shaped, easy and heel comfort, and so on. For protection, we keep in view are slip-resistant, electrical hazards, abrasion-resistant, waterproof, and many others. All these features meet the different types and styles of work field.
One vital point that men mostly ignore instead of females keep it with them is "affordability". In our list, you will find such best work boots for ladies that do not on; y fulfill your requirement and, in your pocket, rang.
Work boots based on the work environment of the field
Here we make a list based on the different work environments for your easy selection.
Electrical Hazard or heavy industry lightweight work boots
Icy or slippery Work fieldwork boots
Chemical or oil industry most comfortable work boots
Construction fieldwork boots
Indoor office environment work-boots
Farms work boots
These are the few work environments in which women are working. On a basis of these, we are presenting a list of work boots that fulfill your requirements.
Best Work Boots For Women
1. Redwing classic Moc (indoor office and in farms)
2. STQ Combat Lace-up Ankle booties (electric work field)
3. Caterpillar Excavator Super lite waterproof ( icy and water field)
4. Ariat Canyon Ankle workboots (Mountains and hilly forest side work field)
5. Timberland women work boot (Construction field)
6. Skechers work shire Peril Steel Toe work boot (Electrical, Oil and fuel industry)
7. Detroit Mid Steel Toe Work Boots (construction field)
8. Safety girl work boot (water and oil industry)
9. WOLVERINE Floor Hand steel toe work boot(industrial)
Comparison Table
| | | | | |
| --- | --- | --- | --- | --- |
| Preview | Product Name | Features | Rating | Toe Type |
| | Red Wing Classic Moc | Comfortable, Stylish, Flexible, and durable | 4 Star | Moc Toe |
| | STQ Combat Lace-up Ankle booties | Comfortable, Suitable to all outfits, Best in design, waterproof | 4.5 Star | Round Toe |
| | Caterpillar Excavator Super lite waterproof | Durable, Comfortable, Lightweight, Waterproof, Electrical Hazard Protection | 4.5 Star | Cap Toe |
| | Ariat Canyon Ankle workboots | Duratread, 4 LR Technology, Waterproof, western Inspired Design | 5 Star | Round Toe |
| | Timberland women work boot | High tower, Waterproof, Comfortable, Lightweight | 4.5 Star | Alloy Soft Toe |
| | Skechers Workshire Peril Steel Toe work boot | Traditional Lace-up design, Buffalo Horse crazy leather, Comfortable | 4.5 Star | Steel Toe |
| | Detroit Mid Steel Toe Work Boots | Waterproof, 100 % man Made, Heel Cup Support, Comfortable and protective, | 4.5 Star | Steel Toe |
| | Safety girl work boot | Comfortable, Protective, Oil Resistant Outsole, | 4 Star | Steel Toe |
| | WOLVERINE Floorhand steel toe work | Industrial Workboot, | 4.5 Star | Steel Toe |
(Office and Best Farms Boots)
Most durable boots. Best comfortable work boots are the name of Redwing Classic Moc for women.
1952 was the year of innovation and Redwing has presented its first Classic Moc work boots on market. The company designs it for a sportsman but soon it became part of the farm and factory workers. It is a lifestyle of work boots. The durability of the shoe is made by the Goodyear Welt and puritan triple stitching construction technology. It is the best women's farm work boot.
Features: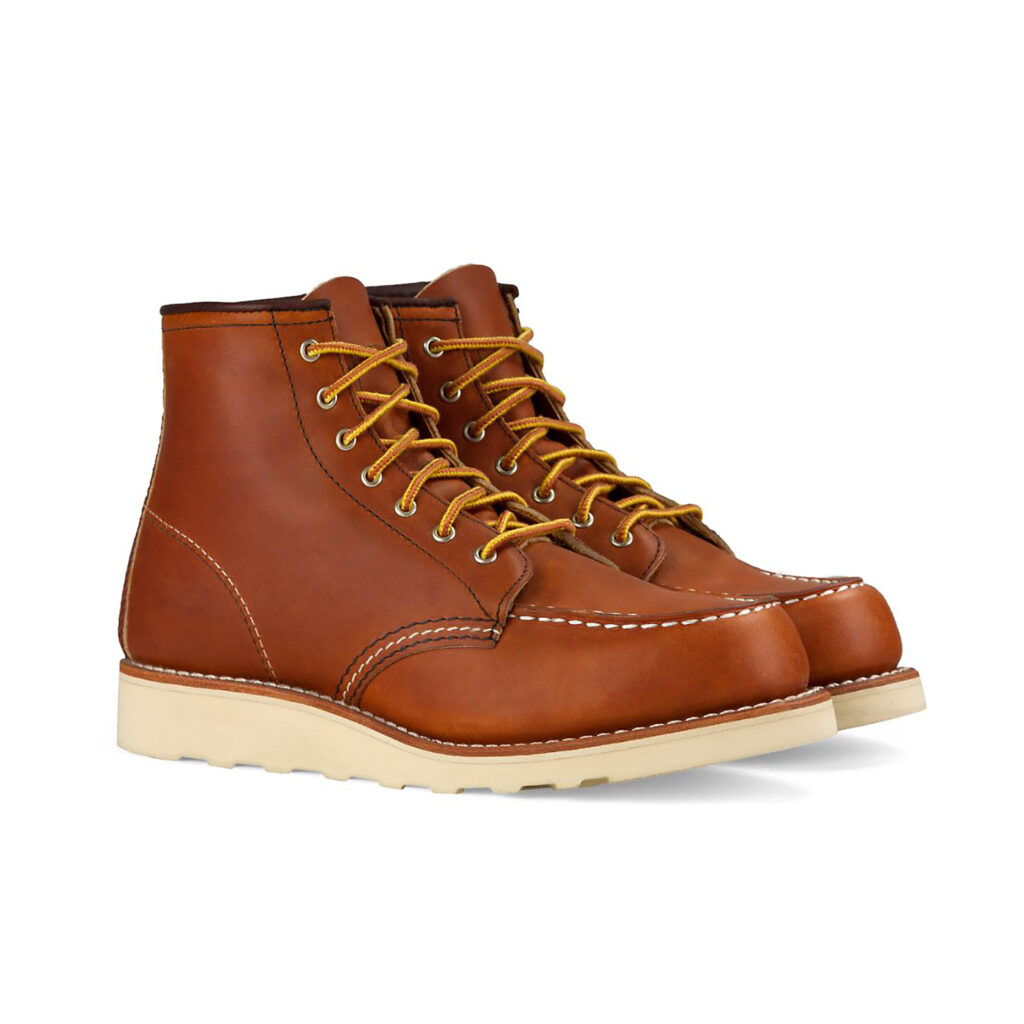 The outsole is made of Traction Iconic Treed rubber.
Good year Welt construction technology is used for durability.
Imported full-grained oiled leather is used for the upper.
None Shank.
Flexible leather sole.
Comfortable and molded Rubber sole.
Polyurethane Outsole.
Soft and stretchable leather.
Crock insole and midsole.
Nickel Eyelets hardware used.
PROS
12-month money or replacement grantee if material and construction defects are found.
Packed in a nice cloth bag.
Waterproof, Oil, and grease resistant.
Stylish footwear.
Sturdy Shoe to wear.
It is also used for hiking and adventure trips.
Fit but space for wiggle toes.
Affordable.
CONS
. Not available with steel toe
Buying Guide:
Red Wing Classic Moc 6 inches most comfortable work boots for women.
Design for all types of occasions and all styles of outfits, easy to wear and easy to walk.
Features:
Eco-Friendly VAGAN UP Upper.
Rubber Insole.
Inside lining is comfortable and keeps feet warm and cozy.
Comfortable in movement by the breathable insole.
Protect and fit ankle Ultra Soft Padded collar.
To feel ease and comfort-cushioned footbed.
Anti-slip resistant for snowy weather.
Lace-up closer with side zipper for a more attractive design.
Round Toe.
Water-Resistant Upper.
Rubber sole for traction.
PROS
Comfortable and easy put on and off by side zipper closure.
Cozy and Warm to keep feet protected in cold weather.
Fit for every outfit and fashion.
Comfortable and easy in movement.
Lightweight.
Easy to fit any size or type of feet.
Low price and affordable.
CONS
The zipper is a bit janky, not easy to move.
Material Quality is a bit low in standard.
Buying Guide:
To protect against ankle injuries SQT combat is best for you.
SRX Slip Resistant outsole to perform best in oil and water surface.
Features:
Imported Premium Leather.
Ultra-Double Rubber Toe bumper.
Toes are seamlessly flexible.
The heel is protected by a heel protective counter.
Rubber outsole for abrasion resistance.
Lightweight cushioned for the easy midsole.
and flexible.
Waterproof leather.
Meet ASTM F2413-18 standards to Nano Composite Toe protection.
Nylon Mesh Lining for softness and breathability with CLEAN SPORT NXT for Pro Biotic odor control.
Comfortable Footbed with rebound top foam layer.
SRX Slip-resistant outsole.
Electrical Hazard protection meets the standard of ASTM F 2314-18 to protect against up to 600 volts in dry and open circuits.
Stability is provided by Ergonomic Ankle pads.
Gold Rated Tanneries (LWG) technology is used to construct the shoes .
PROS
Lightweight and 360-degree protection in Excavator collection.
Instant comfort with super though boot.
Styling and the new standard of the work boot.
Imported leather keeps feet dry and protected.
CONS
Lugs can be torn loose from the soles of the boots.
Toe Box could be narrow to your size.
Buying Guide:
It is not a proper rugged boot and the size has a bit unmatched to regular sizes.
The canyon is ready to work comfortably rugged boot.
The Ariat mission is to produce the world's best Comfortable and improve products. Ariat is partnering world's best Biomechanical research and testing lab groups. The Brand is working on advanced technology to perform best in various fields. It is a combination of old and modern styles.
Features:
Traditional Lace-up.
Imported leather.
Rubber sole.
EVERLON Sole for abrasion-resistant, optimum shock absorption.
Waterproof.
Duratread material.
Western-inspired design.
4LR technology meets the saftey standards.
Best westerninspired desing with duratread.
Best women's waterproof round toe work boots.
PROS
Suitable for farm and fieldwork.
Easy to walk on the uneven surface.
All leather.
Comfortable and lasts a long time.
CONS
Sole will smooth after some time of use.
Buying Guide:
If you have to work on a hard surface it will be best for you. For farmhouse and related field workers, the best choice is Ariat Canyon Ankle workboots.
Timberland brings new women's work boot that is tough, comfortable, and stylish.
Designer women design the work boot for the woman working in tough job areas.
Timberland is the name of craftsmanship, quality, and set standards to meet the customer's requirements. The Brand sets the quality standard to meet customer needs of comfortability, durability, and improvement. In 1973 company introduced the first-ever authentic waterproof leather. The specialty of the company is sustainability and recycle material in the shoe industry.
Features:
TPU outsole for all types of weather conditions.
Waterproof authentic leather.
Synthetic Sole.
Alloy Soft toe.
Waterproof membrane.
Polyurethane midsole.
Dynamic Anti-Fatigue Technology footbed.
PROS
1. Lightweight.
2. Comfortable and easy to wear.
3. They fit true to size and are comfy for all short feet.
4. Most durable work boots.
CONS
Narrow space in the toe box
Not Durable.
Difficult to find pair for wide feet.
Buying Guide:
Timberland women's High Tower 6 inches Alloy Toe Waterproof work boot will be best for heavy industries workers.
Work shire Steel Toe Sturdy, comfortable, oil-resistant work boots.
Skechers has won the global award in the footwear industry for its construction, design, and style. The brand is gaining fame and success. Its products are gaining customers' attention diversity, high quality and the most important factor is affordability. The company had launched its five unique fashion branded styles and seven Skechers brands from utility lifestyle shoes.
Features:
Nubuck and smooth leather upper.

lace-up ankle height steel toe works to boot.
Insole made up of Gel-infused Foam.
ASTM F2412/2413-2011 I/75 C/75 standards meet for toe and feet safety.
Round plain Toe front.
Internal steel safety toe constructed by stitching seam detail Side and heel leather overlays.
Embossed Skechers logo.
Synthetic Sole.
Traditional Lace-up design.
Removable gel-infused footbed.
Memory Foam cushioned footbed.
Oil-resistant Outsole.
Lug patterns for traction.
Rubber Outsole for lug traction.
PROS
Best for wide feet.
Waterproof.
High Quality.
Good construction.
Affordable price.
CONS
Stiff Boots.
No Arch support.
The edge of the shield into the toes during movement or walk.
Buying Guide:
If you are high quality, design, and construction conscious, Skechers work shire Peril Steel Toe work boot for women is the best selection.
KEEN Detroit XT Mid is comfortable, KEEN pain relief, comfy with traditional EVA midsole.
The KEEN brand started its production from outdoor utility lifestyle products. After some time, it expands its style in casual footwear and cold weather shoe and styles, work safety workboots.
Features:
Flexible and breathable membrane.
Steel Toe with supportive fit style.
Both sides supportive, asymmetric steel toe.
Contoured heel lock.
Visibility and additional safety increased with the help of reflective webbing.
Meet ASTM F1677-96 Mark II, ASTM F2913 SATRA non-slip measures.
Clean sport NXT for natural odor control.
Moisture Wicking Textile lining.
Removable footbed.
KEEN.DRY, KEEN.GRIP and Met atomical Footbed design technologies implemented during production.
PROS
Waterproof.
Protective and Comfortable.
KEEN.KEY TECH FLEX technology is used for stability and underfoot support.
Meet standards for slip-resistant.
Flexible.
Different options available with the regular size are a great step by KEEN on its official website.
Affordable.
CONS
Heavy heel.
A bit weighty.
Buying guide:
If you have keen pain issues then KEEN Detroit XT Mid Steel Toe Waterproof Work Boots Will be your best choice.
Affordable, Girly color and style, Safety Girl SGII insulated Workboots.
Safety Girl made these designs especially for women at work.
Features:
Insulation keeps feet warm and cozy.
Double color outsole.
Slip and oil-resistant outsole.
Nubuck leather to protect feet.
The waterproof membrane is used to keep feet dry.
Steel Toe.
Meet Safety ASTM standards.
Nubuck leather upper.
PROS
Rugged Comfortable work boots.
Protective and meet safety standards.
Available in Affordable and girly style and colors.
Excellent grip on heel sides.
Protective steel toe and slip-resistant.
Good and easy to in use at working field.
CONS
Not real leather.
Available in different colors but not in trending look and style.
Buying guide:
Style, color, and design will fulfill your need, but you must have confirmed its leather upper quality for your comfort and protection.
To check customers' reviews, click on the following link.
Waterproof, mesh moisture-wicking lining and steel toe mark it on top among brands.
Wolverine is the oldest footwear brand for 135 years since 1883. It is the largest ionic American brand. Its craftsmanship and quality of the material is the symbol of standard. Wolverine has a specialty in innovation and patented designs.
Features:
For additional comfort, moisture-wicking mesh lining is used.
Premium waterproof full-grained imported leather upper.
Rubber midsole for stability.
Removable cushion footbed.
Rubber midsole for structure and slip-resistant.
Lightweight cement construction for durability.
Nylon Shank enhanced stability and strength.
Meet safety measure standards ASTM F2413-18 for steel toe protection.
For safety, meet Anti-fatigue techniques measures.
PROS
Waterproof
Comfortable and protective.
High quality and good in style.
Good height to protect ankles from turning.
Rubber lug outsole for feet protection.
CONS
They do not stretch for thicker socks use.
Buying Guide:
Wolverine Floor hand Workboots is top-notch and will be your best choice for its craftsmanship material and construction.
To check customers' reviews, click on the following link.