As for long-standing day-in-work boots at work, it makes your feet tired and panic.
Safety work boots perform a great job with you to protect your feet. Work Boots are mostly uncomfortable rather than others. To make them comfortable, we present different tips and tricks to feel better by wearing rigged or tough work shoes. With a few easy fixes, such as the use of insole or shocks style and much more to read this article till the end,
Before all, we must know the basics.
The Basics –
The vital feature of any work boot is to be durable and rugged. They are great at protecting and providing the safety of your feet, That's the reason you feel pain or uneasiness or your feet are killing you at the end of your workday.
The quality of work shoes and proper fit in size, insole cushion footbed material all matter a lot. Unless you order custom work shoes, most of the pairs that you buy won't have any arch support. That will be the cause of pain or agony.
The replacement of Dash or Pace insoles can do a lot to make your wear work boots comfortable. You can use a tramp insole by replacing or buying a new pair of boots. It is best to use Dash insoles for flat feet or plantar fasciitis for a heavy ones.
OSHA and the US Department of Labour set some standards to have to follow the employees. They require employers to make sure all the employees wear protective and safe work footwear. Same a set of standards have to be followed by the shoe brands while designing or manufacturing work shoes.
Safety or protective measures for men's work boots made them a bit uncomfortable for all while all to wear them a long-standing day. But with a few changes will make work boots comfortable and save your feet from hurt or agony.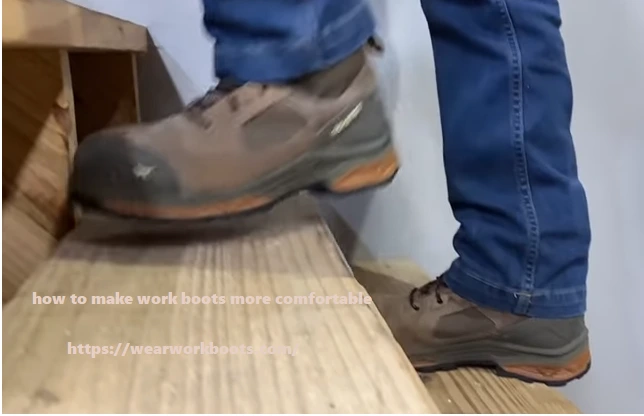 How Should Work Boots Fit?
Best and the first thing to make them comfortable is to select the right or fit to size work shoe while buying. It will take time to select the best and fit to size one. In the market go to different work boot brands and try out a few of them by wearing them to check the size. Compare them and get the exact comfortable one for you by comparing them all.
If you select a short or narrow one that will crowd the feet while too wide or big will allow the movement in them. That will leave your feet with hot spots and blisters.
Points to remember when trying on work footwear.
Pair of Socks. Either use a Polyester or wool/synthetic blends rather than cotton will keep your feet more comfortable.
Cushioning on the bottom provides added comfort.
Length test. To check the accuracy of size, slide your foot forward even if the toes touch the front of the boot. Crock your knee forward. Your index finger should fit with its full width exactly between the heel of your foot and the back of the shoe. Try it for both your feet.
Accurately lace up your feet. Lace-up too tight or loose, making your feet uncomfortable and movement. So, lace up properly.
Make sure the boots flex at the ball of your foot. Adequate Arch Support. If you wear boots that do have not adequate support and bend on the arch will make it uncomfortable.
Try work boots on at the end of the day. Due to the pressure or heat of the day, your feet will swell at the end of a long-standing day. That's the perfect time to try on work boots because this time your feet are their full size.
Frequently Asked Questions
I found most FAQ and try to answer them here.
How can I make my work boots painless?
Wear a thick pair of socks and apply a bandage around your feet. It will provide you with an extra cushion, which then makes you much more comfortable.
How do I stop my boots from agonizing toe?
Set proper insoles
Used to wear thick socks.
Fit to Shape and Size.
Adequate Arch support
Try Wrapping BANDAIDS on your Toes.
In case of hurt apply VASELINE.